Wednesday, August 12, 2009
Posted by

Amy
at 9:01 PM
No comments:


Posted by

Amy
at 8:52 PM
No comments:


Thursday, August 06, 2009
Wednesday, August 05, 2009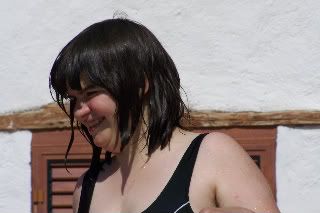 Jessica got to go out to lunch with her teacher and friend Frau Grimm. They had lunch and then did some shopping. She was very excited. I gave her a shower and dressed her nicely before the big event. After the lunch Frau Grimm asked me what plans we had for Jessica. Many people ask the same question. After all, she turns 18 next month. First, she has 2 more years of school. I hope she can learn to write more independently. After school, who knows? I will let God show us what to do when we get there. Frau Grimm says she would be board in the work shop. I am not making any plans. We do not know where she will be in two years. She is making progress, and I do not know what she will be capable of then. My eyes are on today, and today is special. Today she was a beautiful young women going to lunch with a friend. Today was good. I can not define tomorrow. God is good, I will trust him for the future.
Posted by

Amy
at 9:30 PM
No comments: