Our family went on vacation in North Cyprus. Jessica was so full of fear, they almost kicked us off the flight. Boy did I pray!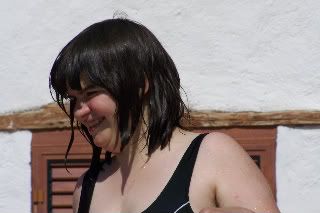 She spent a good deal of time in the kitchen of our villa. Finally on the last day we got her to swim. I guess better late then never!
On one of our last nights we went to dinner. Jessica was such a lady at that dinner. She handed me her bread to cut in small pieces. She seemed very aware of where she was. Her behavior was wonderful. I wish I could say the same for two of the other kids! Juergen said if you have 5 kids one of them is bound to make waves. Jessica was wonderful!
My favorite photo was taken when Jessica sat on the beach. She felt really relaxed as long as she didn't have to be close to the water. For some reason she is afraid of the sea. Isn't she beautiful!